Chris Browne, creator of Hagar the Horrible, will show you how to
draw Hagar step by step. Click on the images to enlarge.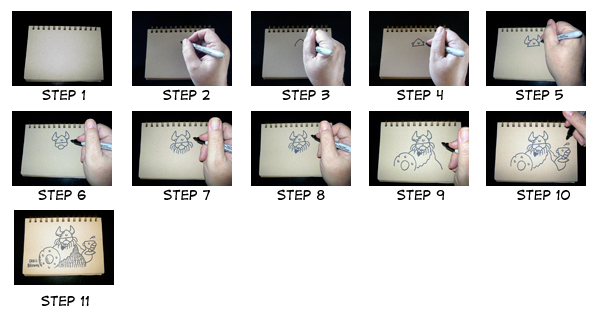 Chris Browne, in the video, shares his cartooning tips on his Hagar the Horrible cartoon strip.
Tom Richmond's Cartoon Tutorials on "The Mad Blog"

Tutorials include: Color, Hands, Inking, Digital Color Series, and How to Draw Caricatures.
The Mad Blog Tutorials
Watch creator Jeff Smith draw his famous character and see
Steve Hamaker add color.
Will Eisner on Sequential Art
Andy Beall narrates his pencil test for Happiness is a Warm Blanket
Stephen Silver, animation artist- ArtCast Series Channel - live and recorded.
R. J. Matson, Editorial Cartoonist - St. Louis Post Dispatch
Comic Artist - Adam Hughes Interview - Anatomy of a Sketch
Five webisodes with Adam discussing his technique and tools of the trade. From pencil sketch to inking.
Adam Hughs Interview